November 28, 2011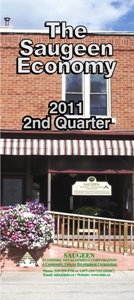 Saugeen Economic Development Corporation, Neustadt
The Saugeen Economy Newsletter began over 15 years ago with an idea to develop a "business lure-brochure", the brainchild of Bill Lang. Under Bill's guidance, with his passion for the area and love of statistics, the brochure grew to become an economic newsletter.
The newsletter is published quarterly, mailed to 900 businesses and community partners and made available at www.sbdc.ca.
The newsletter compares six economic indicators: unemployment, when statistics are available; social assistance; manufacturing employment; building permits; real estate sales; and new motor vehicle sales. It also features an editorial, alternating "A Look Back" reviewing trends in economic health and "Look What's in Your Backyard", which highlights various businesses, industries and community partners. Information is subsequently published in many area newspapers, or broadcast on radio and television.
The economic indicators were initially comprised of data collected from Arran Elderslie, Brockton, Hanover, South Bruce, Southgate and West Grey. Recently Chatsworth, Grey Highlands, Minto and Wellington North were added.