November 28, 2011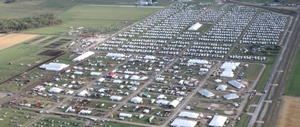 South Temiskaming Community Futures Development Corporation, Haileybury
Showcasing the vibrant agricultural sector in Northern Ontario was the driving force behind the decision of the local organizing committee to apply for, and win, the privilege to host the 2009 International Plowing Match in Earlton.
It takes years of planning and countless volunteer hours to host an event of this size. Ultimately, the dedication demonstrated by all of the organizers and volunteers paid off! A local farmer's 1,000 acre field was morphed into a massive tent city, complete with RV Park, Tractor Park, plowing fields and parking lot. Nearly 500 vendors showcased their products and services to the 80,000+ visitors who attended the five day extravaganza.
The South Temiskaming CFDC, in conjunction with FedNor, was proud to be able to provide financial and administration support to the IPM Coordinator and support marketing efforts for this world class Northern Ontario event.