November 28, 2011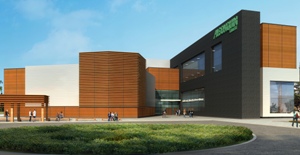 Renfrew County Community Futures Development Corporation, Pembroke
When a 2005 study funded by Renfrew County CFDC demonstrated that a college campus could have a positive economic impact on the Ottawa Valley, the CFDC decided to move forward. In 2007, they completed a fundraising capacity study.
What can a little seed money do? As a result of those studies, the Algonquin College Board of Governors announced in 2008 that a new campus would be built. It features space for 1,016 full-time students in a 100,000 square ft. four-storey building. Included are a library, gym, fitness centre, nursing labs, science lab, auto shop, student commons, lounge and support services, outdoor logger sports training area, cafeteria and culinary arts kitchen: an asset to the revitalization of downtown Pembroke.
"We knew we needed a new campus, but we also knew we needed a partner to help us promote our vision. The studies funded by the Eastern Ontario Development Program helped us build our case," says Karen Davies, Dean of Algonquin College in the Ottawa Valley.